The Akhaldans Way and Its Facilitators
Akhaldans Founder, Akash Dharmaraj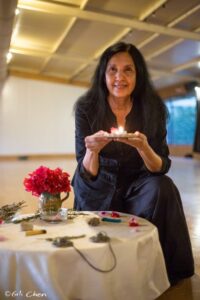 Akash Dharmaraj was born on February 20th, 1946, and passed away in September of 2018. She founded Akhaldans, a 4th Way School in India in 2003 and remains an inspiration for the work offered to you through Whidbey Akhaldans. Her unique legacy vibrates inside of her students as her team continues to carry out her mission: to share this work with integrity and sincerity.
In her early years, Akash worked in schools as a teacher and counselor. She was trained as a Clinical Psychologist, Psychotherapist, and Transactional Analyst.
These methods remained her chief method of intervention in her private practice, which she began in New Delhi, India in the 1970s.
In 1966, Akash met the individual who would become her Sufi Teacher while she was living in Kashmir. Their initial encounter (she knew him as the neighbor's gardener who advised her on growing strawberries and tending her goat) had such an impact on her that she secretly began her lifelong Sufi journey under his guidance. This journey created an intense friction between her personal life and the cultural and social norms of the times. She undertook the most important spiritual journey of her life in secret even from her own family, for nearly forty years.
As a result of the Work she was undertaking spiritually, her professional practice began to evolve. In the late 1990's, Akash began to feel restricted by the limitations of "talk therapy", and wanted to fill her work with her clients with a richer "meaning dimension." She sought permission from her Sufi teacher to integrate Sufist psychology–and healing techniques–into her work. She also began to explore the integration of energy-healing techniques such as Reiki, Pranic Healing, crystals, essential oils, colors and fragrances, and the power of meditation and visualization.
The most dramatic discovery for her personal and professional Work, however, came from Gurdjieff's Sacred Dances, which she described as "life changing," in ways she "could not have imagined." She began to heal herself with the Dances, and began subsequently to share the Dances with her clients through an integrated philosophy which combined all that she had learned.
Her method took a constantly evolving form, and she began to transmit its transformational capabilities via a creation of her own school: Akhaldans Fourth Way School. Aware of the unique possibilities and power of the approach, she invited several students to train with her as Akhaldans 4th Way Facilitators, a process which took upwards of 10 years.
After spending a year recovering from a debilitating stroke in 2017, Akash passed away in September of 2018. Her outpouring of love, care, and commitment to the work which had been so imminent in her final three years of life did not diminish in her last year. What she felt was her calling–to offer the world access to the unique, integrated transmission of the healing Work she had discovered–remained central in her final years. She began to offer retreats in Portugal, Ireland, Israel, and India to a global community, with great humility, and love.
Among Akash's last words were, "I am dancing the dance of life, peacefully making my humble contribution to the universe, and accepting its gifts with gratitude." She also extended an invitation to Carol Squire, her friend and co-champion in the Akhaldans School. Akash's wish to Carol was that she continue the Work that they began together, on a global scale.
In creating the Whidbey Akhaldans Fourth Way School, Carol continues to honor Akash, their Work, and their enduring commitment to sharing Gurdjieff's transformational tools with anyone who is ready to undertake the Work.
Both Akash's Sufi Path, and her clinical psychology methods remain embedded in the work that the Whidbey Akhaldans Fourth Way School offers today.