The Akhaldans Way and Its Facilitators
Carol Squire
Carol is a Sufi Dervish, Fourth Way teacher, Transactional Analysis (TA) facilitator, Sound Healer, Reiki Master, corporate leader, woman, mother, and student–just like all of us. She is also the co-founder of the International Akhaldans Fourth Way School, in India. Carol worked with Akash Dharmaraj, to create a unique style of transmitting the Fourth Way Work. Together, they used the Gurdjieff movements as a vehicle for awakening and transformation.
Carol has been leading groups globally for 35 years. She integrates Sufi practices and Transactional Analysis in her organizational change work with high-profile corporate leaders, non-profit organizations, groups, and individuals. She warmly welcomes all those who ask to learn, and are ready to undertake the Work.
Her mission is to transform individuals, teams, and organizations by taking them out of their automatic comfort zones. She invites her students to return to a simple state in which sensory awareness reigns supreme; this allows them to experience themselves, and the world, anew, shedding layers of fear, control, ego, and fractured selves. In this space, we reinvent, reintegrate, and reconnect with our most authentic, essential Self. In our truest selves, we embody spirit and animation; we have access to deeper experiences of awareness, intimacy, and spontaneity; we become newly connected to ourselves, our potential, our purpose, and others in deeply meaningful and healthy ways. Through the Work we come to operate from a place of love and playfulness. Through the Work we become, more purely, ourselves.
Carol is an inspired and experienced facilitator of the Work through Gurdjieff's Sacred Dances, and has led retreats in India (including the Osho Commune in Pune), Israel, Portugal, Ethiopia, and North America. For those who are interested in a more prolonged exposure to the Fourth Way, Carol conducts on-going classes, workshops, retreats, and residential opportunities from Whidbey Akhaldans Fourth Way school, in Washington's Puget Sound. During pandemic conditions, Carol also leads groups via Zoom that include seekers from over a dozen countries.
Contact Carol at whidbeyakhaldans@gmail.com
Akhaldans Founder, Akash Dharmaraj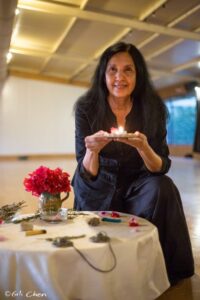 Akash Dharmaraj was born on February 20th, 1946, and passed away in September of 2018. She founded Akhaldans, a 4th Way School in India in 2003 and remains an inspiration for the work offered to you through Whidbey Akhaldans. Her unique legacy vibrates inside of her students as her team continues to carry out her mission: to share this work with integrity and sincerity.
In her early years, Akash worked in schools as a teacher and counselor. She was trained as a Clinical Psychologist, Psychotherapist, and Transactional Analyst.
These methods remained her chief method of intervention in her private practice, which she began in New Delhi, India in the 1970s.
In 1966, Akash met the individual who would become her Sufi Teacher while she was living in Kashmir. Their initial encounter (she knew him as the neighbor's gardener who advised her on growing strawberries and tending her goat) had such an impact on her that she secretly began her lifelong Sufi journey under his guidance. This journey created an intense friction between her personal life and the cultural and social norms of the times. She undertook the most important spiritual journey of her life in secret even from her own family, for nearly forty years.
As a result of the Work she was undertaking spiritually, her professional practice began to evolve. In the late 1990's, Akash began to feel restricted by the limitations of "talk therapy", and wanted to fill her work with her clients with a richer "meaning dimension." She sought permission from her Sufi teacher to integrate Sufist psychology–and healing techniques–into her work. She also began to explore the integration of energy-healing techniques such as Reiki, Pranic Healing, crystals, essential oils, colors and fragrances, and the power of meditation and visualization.
The most dramatic discovery for her personal and professional Work, however, came from Gurdjieff's Sacred Dances, which she described as "life changing," in ways she "could not have imagined." She began to heal herself with the Dances, and began subsequently to share the Dances with her clients through an integrated philosophy which combined all that she had learned.
Her method took a constantly evolving form, and she began to transmit its transformational capabilities via a creation of her own school: Akhaldans Fourth Way School. Aware of the unique possibilities and power of the approach, she invited several students to train with her as Akhaldans 4th Way Facilitators, a process which took upwards of 10 years.
After spending a year recovering from a debilitating stroke in 2017, Akash passed away in September of 2018. Her outpouring of love, care, and commitment to the work which had been so imminent in her final three years of life did not diminish in her last year. What she felt was her calling–to offer the world access to the unique, integrated transmission of the healing Work she had discovered–remained central in her final years. She began to offer retreats in Portugal, Ireland, Israel, and India to a global community, with great humility, and love.
Among Akash's last words were, "I am dancing the dance of life, peacefully making my humble contribution to the universe, and accepting its gifts with gratitude." She also extended an invitation to Carol Squire, her friend and co-champion in the Akhaldans School. Akash's wish to Carol was that she continue the Work that they began together, on a global scale.
In creating the Whidbey Akhaldans Fourth Way School, Carol continues to honor Akash, their Work, and their enduring commitment to sharing Gurdjieff's transformational tools with anyone who is ready to undertake the Work.
Both Akash's Sufi Path, and her clinical psychology methods remain embedded in the work that the Whidbey Akhaldans Fourth Way School offers today.
The Whidbey Akhaldans School (Overview)
The Space
We undertake our Work together in a quiet, serene home on Whidbey Island, Washington, surrounded by opportunities to connect with nature. Against the backdrop of a pristine Pacific Northwest vista, the Whidbey Akhaldans Fourth Way School sits on 5 acres of Madrona and Douglas Firs, at the end of historic Penn Cove.
We enjoy close access to the beach–where we kayak and welcome brave souls to embark on a "polar plunge" (though Carol will not join you!), state park trails, bluffs, and unspoiled forest. Those desiring adventure "outside" after our adventures "inside" ourselves may also make their way to the Olympic Peninsula, the Pacific Coast Trail, the many beautiful San Juan Islands, or Vancouver Island in Canada.
Our overnight guests will find themselves at home among beautiful surroundings, interesting people, modern amenities, and home-cooked, communal meals. We offer multiple tiers of lodging, in an effort to cater to all budgets. Our guests can choose between private rooms and communal sleeping arrangements, both on and off site.
The Work
The Whidbey Akhaldans Fourth Way School is a center that offers students the opportunity to cultivate integrated development of self-awareness and self-understanding. This self-understanding transforms our inner–and outer–experience of life. Through unlearning our conditioned, past patterns, we are able to connect in a more grounded and authentic way with ourselves, with others, and with the world. This process is always underway, and it is our eternal, joyful Work.
Creating a physical community of like-hearted seekers is key to the purpose of Whidbey Akhaldans. In essence we are working to create a group that feels like a community without being a formal 'community' with rules and the resulting drama. We have set all the offerings around the weekend so that folks from the mainland can come on Friday evening and stay through to Sunday. We have extra rooms or, even when many, private floor space. When there are overnight guests, we make sure to have more opportunities for work together or just space to Be.
Carol further explains:
The bedrock for our shared values is a common desire to be more — more present, more connected and ever more Human. There are many wonderful paths to transformation and to reaching more of our human potential; seekers need to know what is on offer so that they can decide whether it's what they might be looking for. Well, Whidbey Akhaldans is my space, my personal retreat center where I walk my path and invite others to walk alongside me. When describing this path, I often quote Parker Palmer's beautiful reminder: We teach who we are. When deciding what to offer and when, I acknowledge: We teach what we most need to learn.
Asking myself who I am is such a fascinating exercise. Please try it! The answer changes all the time — at least on the surface. Who I am is not the same as what I have done or even what I am doing. The simplest answer that hasn't changed since I began my conscious journey is that I follow a 4th Way path to becoming a clear channel for transformation — my own first — to prepare me for service to others. Whatever I do with myself or others always provides work to challenge all three centers at their leading edges and aims toward their integration once they are made whole and healthy. The outer forms of this work reflect my current explorations and include the Gurdjieff Movements and ideas, practices around the qualities of the heart embedded in the 99 wazifas of the Sufi way, Reiki healing, sound work including deep listening, and lots of cross-sensorial-neurological exercises to shake up and re-lay clearer pathways in my three brains.
Over the past year of pandemic confinement, I have been engaged in a deep-dive to prepare for the integration of the Enneagram of Transformation into my shared work. I will launch this during a 10-day Movements retreat this summer in Finland. I'm delighted to be headed back to the Karuna meditation center in southern Portugal for a 6-day Movements retreat in southern Portugal following the Finland workshop. I'm also planning a 3-day retreat for the fall in Northern California where I will assist my friend, Henry Schoenfield, in the exploration of the teachings of Jesus in the Lord's Prayer and the Beatitudes with movement that enhances the resonance of the sound and meaning of the original Aramaic prayers.
This brings me back to my work to build a local community. This work on Self isn't easy. Although it's hard for me to admit that I can't do it all on my own, I learn more deeply when working consistently with others who share my interests, who challenge my beliefs and inspire me to try new things and see the old in new ways. I have found it invaluable to have residential students living here, reminding me to walk my talk every day.

To create and hold a local, non-residential group where we can work together, we're making space for friends with a wide range of interests and comfort zones. There are some people who lean toward the Gurdjieff work and particularly the Movements. Others don't resonate with the Movements but enjoy and are awakened by the experiential and playful nature of the somatic integration groups. Still others come only for the Salon, where they find stimulation and the relief of being in a circle of people who want to explore ideas and how they impact us emotionally. We have a small core of people who come for all three and are actively welcoming newcomers.
The Students
Our students come from all walks and wanders of life. Those ready to undertake the most precious and challenging Work of their lives form our community of learners. Our students are high potential, and sincere seekers of a deeper truth. For some, this longing arises from a feeling of being "lost," confused, or of missing something in their lives. For others, it comes from a need to connect in a meaningful and concrete way to people who can coach, and support their growth as they become their best selves. All of our students feel a disconnect between who they appear to be, and who they really are; they seek to find a deeper Reality and experience of life and the world than the one they've been presented with, or been able to find alone.
(To read student's testimonials, press here).
The Method
Our Work is guided–and informed–by tenants of Emotional Literacy and Transactional Analysis; Gurdjieff's writings and those of his students, ideas, movement, and practice; and integrated personal development that emphasizes the interconnectedness of our intellectual, emotional, and physical centers. Our Work is led by Carol Squire and, on occasion, visiting scholars.
There are many formats in which the Work takes place. While our personal commitment to introspection and willingness to work on ourselves plays a huge role in the Work, the Whidbey Akhaldans Fourth Way School offers students the unique opportunity to learn with and through shared experiences with one another.
Our Work takes place alone, in pairs, in small and large groups. Students are invited to experience the Work through our Zoom classes, our in-person classes, weekend retreats, long retreats on site and abroad. We also welcome students to come for more immersive experiences, through one-on-one coaching sessions with Carol, through our residential program –which spans 1 to 3 months– and through intensive, 3-day one-on-one retreats with Carol on site.
You can find out more about our offerings, here.
Here
We are free to learn at our own pace, to start where we are, to make mistakes, to be ourselves, to leave, and to return. The Whidbey Akhaldans Fourth Way School gives students a protected, confidential space in which they are invited to cultivate deeper self-understanding through potent experiences of self, and connection to others.
Our facilitators are at once compassionate, challenging, intellectually stimulating and emotionally rich. We embrace our students' individual needs wholeheartedly through conscious and creative engagement.
Testimonials
Our students' testimonials highlight their experiences with consistent challenge–and meaningful, vulnerable discussions–in a safe place. Because we treat even our most mundane moments as teaching and learning opportunities, students leave the School with direct insights about what they need to work on.
To read out student's testimonials, click here.